On Fridays, we are posting entries for a weekly blog journey by Angela Williams, our Young Adult Volunteer, of the day-to-day work to organize and create positive social change in her community. We invite you to join the conversation on Facebook and Twitter!
by Angela Williams
Last week, I had the opportunity to participate in two direct actions, one focused on the federal government and the other directed toward local transportation authorities.
Planting the Seeds of Action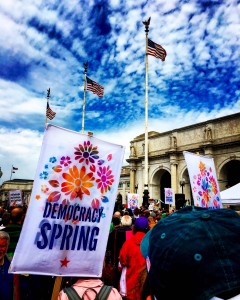 For the federal action, I first received news regarding the plans for massive acts of civil disobedience via email a few weeks beforehand. Democracy Spring was a 16-day action that began with an 8-day march from Philadelphia to Washington, DC, and culminated in 8 days of sit-ins at the US Capitol building in the name of getting big money out of politics.
When I originally received the emails, I thought about what brought me to DC. I first felt the call to activism, advocacy, and community organizing when I attended a memorial service and march of 20,000 people protesting the Philippine government's response to Typhoon Yolanda/Haiyan. That day I felt God calling me back to my home country where I could use my voice to create positive social change. When the #BlackLivesMatter movement was marching in Baltimore, Ferguson, Chicago, and New York, I longed to stand in solidarity with people who have historically, and presently, experienced systemic discrimination. I have lived in Washington, DC, for seven months and participated in zero protests, demonstrations, or marches. Plus, the kickoff for the week of sit-ins was on Monday, April 11, my day off. I could totally make it work.
Within an hour of signing up, I received a phone call from a Democracy Spring organizer checking in to see if I had any questions and asking me if I was willing to risk arrest. Well that was not on my to-do list, but I considered it. In talking to my parents, my YAV community, my supervisors, and my site coordinator, I pondered a few questions. What would be the consequences of getting arrested? Would there be legal support? Would I actually go to jail? Would this go on my permanent record? Could I get a job with this on my record? How long would I be detained? What would that say about my privilege to be arrested and detained without experiencing police brutality and misconduct? As a YAV working with NEXT Church and New York Avenue Presbyterian Church, how would I be representing those organizations? Is ending government corruption and getting money out of politics the issue for which I want to be arrested? Is this the best way to use my time, body, and voice? Will my arrest actually accomplish anything?
After talking to the parties listed above and some faith leaders who have been arrested, I discerned that this was not my time to risk arrest. Another deciding factor was the fact that I was planning another action with WIN that was scheduled for the evening of Monday, April 11. I couldn't quite organize my own action if I were sitting in a holding cell somewhere in the Capitol.
The Local Context
One of WIN's campaigns has focused on safe transportation and fair wages for transportation operators. The DC Circulator is a bus line in DC that is funded by DC tax dollars but outsourced to a private multinational transit corporation. Even though DC Circulator operators do the same jobs as the Metrobus operators, the public bus company in the District, Circulator operators receive on average $8.22 less per hour than Metrobus operators. Additionally, a maintenance audit released in April showed that 95% of buses on the road had enough safety defects that they should not be in service. So what do we do with this information? As a WIN leader at New York Avenue Presbyterian Church, I talked to members interested in WIN and young adults about the issue and encouraged them to take action. The plan was to meet and listen to Circulator operators themselves about the situation and then hop on a bus to tell passengers what we heard.
Who is in the Room?
Before I could participate in an act of civil disobedience at the Capitol, I had to attend a nonviolent action training. People from all over the country had traveled by train, plane, automobile, and foot to take a stand against big money in politics. Washington, DC, is one of the most diverse cities in the country and definitely the most diverse place I have ever lived in the US, so it struck me that the training room was predominantly filled with white people. I would venture to say that the vast majority of them support Senator Bernie Sanders for president. This anti-corruption movement had billed itself as a non-partisan action that brought liberals and conservatives of every background together, but that was not who I saw in the room. It was telling of who is able to drop everything to travel across the country and risk an arrest record in an effort to reverse Citizens United, end super PACS, and enact campaign finance reform. On the day of the action, it was difficult for me to be fully present and passionate about this issue because, based on my research, the five bills that Democracy Spring wants Congress to pass have 0-1% chance of becoming law. When we chanted, "I believe that we will win!" I was not convinced that we would win. What would winning even look like?
Monday afternoon I helped to carry a parachute bearing the words "Democracy Spring: Protect Voting Rights," and we approached the Capitol plaza, marching up to the steps where members of the Capitol Police Department were waiting for us. After ten minutes and two warnings, I had to move or risk being arrested. The police officers herded us back across the plaza so that about 150 feet stood between the group legally protesting and the group sitting in risking arrest. Those first moments of movement were the most tense with protesters chanting, singing, and even yelling at the police. I wondered why some were yelling at the police rather than trying to start a dialogue with them. I realized that organizing had ruined me for activism.
Organizing Basics
The root of community organizing is the relational meeting, one on one conversations with leaders and individuals in churches, neighborhoods, government, unions, and other institutions, in order to learn what drives people, where their self-interest or deepest passion lies. Thinking theologically, Roger Gench describes relational meetings as opportunities to encounter the risen Christ in our fellow humans. Organizing is a pragmatic alternative to yelling in the streets outside of a building where no one is listening. An organizing strategy would be to engage directly with those in power to act on your issue, learn their self-interest (it is in the interest of most politicians to be re-elected), and plan a campaign to build the power you need to create change around that issue that you care about.
Confrontation or Conversation?
Back at the Democracy Spring event, I stood in the sun for five hours, waiting for Capitol Police to arrest each of the 400 people who continued to sit in. During that time, I was able to have a pleasant conversation with one of the officers standing on the front line between the groups of demonstrators. From what I observed, all officers acted professionally and responsibly with both groups, for which I am extremely grateful.
Faith on the Bus
Eventually, I had to make my way back to church to meet my WIN action folks for our local action. Our group of seven concerned citizens, organizers, and Circulator operators discussed the issues that the operators face and learned the relevant facts. Then we took to the buses. During our rides, we talked to every passenger on our respective bus. About 25 people sent tweets and left messages for the DC Department of Transportation, holding them accountable for the safety of the buses and fair wages for the operators. While it was a much smaller action, the goal was clear, and success is much more probable since the operators are organized and currently in negotiations with the contracted company regarding bus safety and operator wages.
While I do not doubt that the organizers of Democracy Spring used relational meetings to set up the logistics of the action, it was clear that the marchers were a group of individuals who may not have had any connection to an institution that was working with Democracy Spring. For the WIN action, each person was connected to a member institution of WIN (New York Avenue PC and Amalgamated Transit Union). As leaders and organizers, we had to establish relationships with everyone at the action before we came together to tell others about the DC Circulator. Since the WIN action was focused on a local issue, it was easier to build a sense of community amongst everyone who showed up for the Circulator without needing a large social media presence. For me, the intimate setting and great efficacy of the WIN action was more of a win for me than sitting in at the Capitol with Democracy Spring. Our society probably needs both symbolic activism and long-game community organizing efforts to create the change we want to see.
In my heart and mind, organizing has won over activism.
---
Angela Williams is currently walking alongside the good folks at NEXT Church and New York Avenue Presbyterian Church as a Young Adult Volunteer in Washington, D.C., after serving a first YAV year in the Philippines. She finds life in experiencing music, community organizing, cooking any recipe she can find, making friends on the street, and theological discussions that go off the beaten path.
https://media.mywtenfold1.com/wp-content/uploads/sites/10/2016/04/29175321/featured-dem-spring.jpg
200
398
Linda Kurtz
/wp-content/uploads/sites/10/2016/01/NEXT-Logo-FINAL-Horizontal_lato-1030x229.png
Linda Kurtz
2016-04-22 09:16:51
2016-06-13 19:09:21
Activism vs. Organizing