Each month, we post a series of blogs around a common topic. This month, Jan Nolting Carter is curating a mosaic of perspectives on the art of transitional ministry. How do we work with people and systems in the midst of change? What does transitional ministry look like inside and outside of the church? We invite you to join the conversation on Facebook and Twitter!
by Paul Rhebergen
All ministry is transitional. We are living in the midst of a sea of change in every element of life: our own and the life of the people, systems, and cultures in which we serve as ministers. Transitional ministry is consciously using our gifts and abilities to work with others to live into this change as Jesus Christ would have us live. We are called to use our particular gifts, for a particular time, in a particular place, for the greater purpose of empowering the good news of God's grace. Martin Luther King, Jr, one of the best transitional pastors, observed, "The arc of the moral universe is long, but it bends towards justice." I would humbly add that the arc of the gospel is long, and it bends towards love.
I believe these arcs are one, and this arc informs the direction of the church as it moves forward with the flow of change. Transitional ministry seeks to consciously work with the change bringing us more fully into God's arc of justice and of love. Standing against the flow is to be washed away, and invites failure to understand that the flood of change is part of God's creative action. Attempting to channel the flow for our own purposes fails to accept our need to be continually transformed by the Spirit at work in the world in which we live. Simply riding the flow of change without thought to the arc of the gospel leaves us adrift in a flood of anxiety.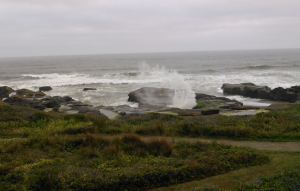 To participate in the flow of God's grace in the midst of change, here are some questions to consider as we seek to move with the church into the future Christ holds for us:
Would it be helpful for us to strip away the language of Installed Pastors and Temporary Pastors? Congregations often experience anxiety when it thinks it is without "real" pastoral ministry. In contrast, pastors often feel the lack of personal financial and professional security that comes with ending one temporary position and searching for another.  For many of us, both ordained clergy and the congregations, the false perception of a "permanent position" becomes idolatrous as we enter into the seductive search for the "one" position or pastor that is God's choice for us.  What has happened to the understanding that God will work for good in all things for those who believe?
Would any "good" pastor work well in all pastoral positions?  While there are a few teaching elders, and perhaps many more ruling elders, who can function well in any situation, for most of us there needs to be a good matching of the skills, talents, abilities, and energy of the pastor with the needs of a congregation.  Our matching process has often become a beauty pageant that doesn't respect the real stories of both congregations and teaching elders. The placement for interims and transitional pastors has become about finding an available body to fill the position.  What if we took seriously understandings of "congregational lifecycles" and placed clergy with leadership traits most appropriate for the lifecycle stage of a particular congregation? What if we considered personality profiles and stopped calling introverted teaching elders to extroverted congregations? We could do "what ifs" with every tool we use to look at the identity and make up of a congregation.  What if we taught our search committees the value of these tools?
What if we considered the reality of a particular congregation? We tend to measure the life of a congregation and the ability of a pastor against a scale of success measured by numbers of members and dollars. The church of Jerusalem did not tally numbers when the Apostles appealed for an offering to assist the followers of the Way. We need pastors who are able to challenge congregations to run with them into the future, just as we need pastors who will walk with congregations through the changes that have enveloped them. Some churches need pastors who can sit with congregations suffering deep wounds from conflict and abuse, and some need the mercy of a chaplain who will be with them through their time of decline and even death.  Shouldn't we take seriously the varied needs of congregations and find ways to provide pastoral presence appropriate to where they are?
What if we keep on asking the questions that will help congregations and their leaders to better understand how navigate the river of change that is carrying us into God's future?
---

Paul Rhebergen is a long time pastor working in transitional settings, who enjoys asking questions, and living with the tension between what has been and what will be.  He also loves walking in the woods, reading suspense novels, and finding time with his wife and three adult daughters.
https://media.myworshiptimes31.com/wp-content/uploads/sites/55/2016/06/29175042/featured-transitional-sea.png
200
398
Linda Kurtz
/wp-content/uploads/sites/55/2016/01/NEXT-Logo-FINAL-Horizontal_lato-1030x229.png
Linda Kurtz
2016-07-11 07:17:23
2016-07-12 17:23:45
Active Questioning About Transition