by Steve Lindsley
My church was built in the 1950's as an offshoot of Myers Park Presbyterian a few miles up the road. They built a gorgeous sanctuary that seats 700. They built not one but two classroom buildings that, to this day, contain the standard wooden tables and chairs we all know and love. We're doing new things with our space these days because that's what churches today are having to do. Our session recently voted to remove a few pews to the side of the pulpit in order to create a wonderful open area dedicated to music, and those classroom buildings are home to both a preschool and Philips Academy, a school for middle and high-school students with learning disabilities.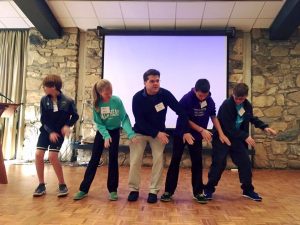 But in a lot of ways our church is still like many: founded and built on the premise that encountering and engaging faith involves a lot of sitting and being still. Passive. Doing faith in our heads. One-way communication from pulpit or teacher. Faith received.
Now I'll be the first to admit it: I could stand to slow down a bit. I'm in constant movement with my work in ministry, with my family, with all the obligations and responsibilities my life contains. There is an inherent, rich value in tranquility, especially as it pertains to growing in faith and connecting with the God who created us and loves us still.
Even so, it's pretty obvious that there is a constant and consistent presence of movement in our faith tradition. The Israelites wandered for forty years. Jesus healed with his hands. Paul traveled all over. Ezekiel saw a vision of God on wheels. We are more than just the frozen chosen – we are on the move!
This June, the NEXT Church blog series will focus on ways people encounter spiritual growth through movement – everything from running to body prayer to energizers. We hope these blogs will elicit questions like: how does one practice a physical faith – inside or outside of the church? In what ways can we experience God through our bodies and our communities? And how does movement, of many forms, bind us to a deeper sense of spirituality?
It should be a fun month. Now it's time to get up from my computer and take a walk. Gorgeous North Carolina day outside, and it's calling my name.
---

When he's not being the senior minister of Trinity Presbyterian Church of Charlotte, or songwriting/gigging, or keynoting/leading music for various retreats and conferences, or blogging at thoughts-musings.com, or playing pick-up basketball with his two sons, or cheering on his beloved Panthers and Hornets, or watching music reality TV shows with his lovely wife, Steve Lindsley is probably sleeping.
https://media.mywtenfold1.com/wp-content/uploads/sites/10/2016/05/29175128/featured-trinity-energizers.jpg
200
398
Linda Kurtz
/wp-content/uploads/sites/10/2016/01/NEXT-Logo-FINAL-Horizontal_lato-1030x229.png
Linda Kurtz
2016-06-01 07:07:58
2016-06-13 19:07:51
A Physical Faith