Each month, we post a series of blogs around a common topic. This fall we've asked a number of leaders to respond to the question, "What is saving your ministry right now?" We invite you to join the conversation here, on Facebook, or Twitter!
By MaryAnn McKibben Dana
What's saving my ministry these days is a five minute journaling practice I've been doing each morning (and most evenings) for the past few months. I've tried various journaling methods off and on for years. Something about holding the pen in my hand allows me to focus my prayers in a way my monkey mind can't do by simply sitting quietly. And now that I work from home "for myself," I have lots of possible things vying for my attention and time. I was looking for something short and focused that could bring clarity and discernment to my day.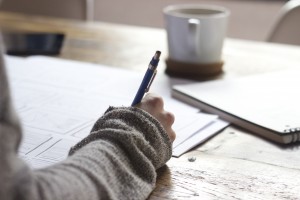 Many of us are familiar with Julia Cameron's morning pages, which she calls her "spiritual windshield wipers." This practice serves the same purpose, but instead of writing stream of consciousness, I write short pithy statements. Whereas morning pages are like an epic poem, this is journaling as haiku. I adapted it from Tim Ferriss, an author and entrepreneur. He's a little too "guru" for me, but I think he's hit upon a good structure to get the day started with intention.
Here are the questions for the morning:
Three things for which I'm grateful:
1.
2.
3.
Three things that would make this a fruitful day: These don't have to be things I want to accomplish, but they usually are. Most of us have way more than three things on our daily to-do list, so it helps to be clear on the most essential items.
1.
2.
3.
An affirmation: 
I am…
I have three kids, so "patience" shows up a lot here.
I'm curious about:
This is something I've added recently, thanks to Brené Brown's work. This is often where I think about my reactions to things and wonder "What was THAT about?!" 
As for the evening practice, it is similar:
Three things to celebrate about the day:
1.
2.
3.
One thing I could have done better:
Those of you who know the Ignatian examen will recognize threads of this practice in these questions. The questions are framed in terms of gratitude, and there is ample space to acknowledge the times I've fallen short—to see them written in my own hand, and to let those moments go—to let God absorb and hopefully transform them.
---

MaryAnn McKibben Dana is a teaching elder in the PC(USA) whose ministry consists of writing, speaking, and freelance writing/consulting with non-profit organizations on their social media needs. She is a member of the NEXT Church Strategy Team. Connect with her at her website, The Blue Room.
https://media.myworshiptimes31.com/wp-content/uploads/sites/55/2015/11/29175814/8Y0EDX4VP9.jpg
3456
5184
Linda Kurtz
/wp-content/uploads/sites/55/2016/01/NEXT-Logo-FINAL-Horizontal_lato-1030x229.png
Linda Kurtz
2015-11-11 08:42:18
2016-02-20 16:57:00
A New Take on Examen