By Marranda Major
There was a commotion this morning at my bus stop. A man waved his arms furiously and jumped up and down to catch the attention of a young man walking on the opposite side of the street. When the boy crossed to join the crowd at the bus stop, the man embraced him and other elders patted the boy emphatically on the back. The boy smiled in acknowledgement and continued on his way. Another curious bystander asked, "Who was that?"
"A son of our community, come home," answered the man.
He told us how he had watched the young man grow up in our neighborhood—a good student and star soccer player who had gotten a job at sixteen to support his mother and grandparents. "He disappeared three years ago. We knew he was in jail but were in disbelief—he was such a good kid."
"He's changed," said another woman, "You can see in his face that he's hardened, hurting."
I don't know this young man's story. I don't know his name or his charges or the conditions that led to his crime. But I do know his context, and after living in this neighborhood for the past eight months, I recognize that this community is "hardened, hurting" too. And as the tension between police brutality protesters and the militarized law enforcement is exploding in Baltimore, we see the inevitable outcome of our hearts "hardened, hurting" when our grief fails to find reconciling justice. Racially polarized reactions to the events following Freddie Gray's death reveal that our country is "hardened, hurting" and the enormity of fixing the systemic racism that is so deeply entrenched in our justice system seems insurmountable. However, this year's Ecumenical Advocacy Days offered our churches and faith communities a place to start.
The theme for the 2015 conference was "Breaking Chains: Mass Incarceration and Systems of Exploitation." During worship, preachers grounded us in the scriptural basis of our tradition that calls us to see God in the faces of the imprisoned. Keynoters presented the appeals we would make to Congress:
Reform federal criminal justice and immigrant detention policies toward the goal of ending unfair, unnecessary, costly, and racially biased mass incarceration by:

adopting criminal justice and sentencing reform policies that incorporate an end to mandatory minimum sentencing;
and eliminating the detention bed quota for immigrants and implementing alternatives to immigrant family detention.
We would ask for our representatives to support legislation like the Smarter Sentencing Act of 2015 (S. 502/H. 920) that would
limit the excessive mandatory minimums for non-violent drug offenses,
retroactively apply previous sentencing reforms from the Fair Sentencing Act of 2010 for crack cocaine offenses which would result in an immediate reduction of the federal prison population,
transfer power back to the judge's discretion in cases involving the lowest level drug offenses.
Why should Christians care about reforming sentencing procedures? And more importantly, how is drug policy related to police brutality and racism today? For me, Michelle Alexander's The New Jim Crow: Mass Incarceration in the Age of Colorblindness made the connections between race and how people interact with the criminal justice system obvious. Alexander traces how the War on Drugs led to policies like the 1986 Anti-Drug Abuse Act that inadvertently target poor black communities by imposing long mandatory minimum sentences for low level dealing and possession of crack cocaine, and led in part to the 750% increase in the federal prison population in the past 35 years. (Yes–you read that number correctly, a 750% increase.) For more information about drug policy and about how its implementation unfairly disadvantages the poor and people of color, I highly recommend reading The New Jim Crow.
On the final day of the gathering, nearly one thousand participants descended upon Capitol Hill to meet with their representatives. We shared stories from home to connect our elected officials with a vision of how mass incarceration is ripping apart the fabric of our communities. I joined with four other DC residents in briefing a staffer for Representative Eleanor Holmes Norton and expressing our concern that in Washington, D.C., three out of four young black men will serve time. Staffer Gamble held our concerns in consideration and shared letters with us that Representative Norton had signed onto to show her support for this legislation.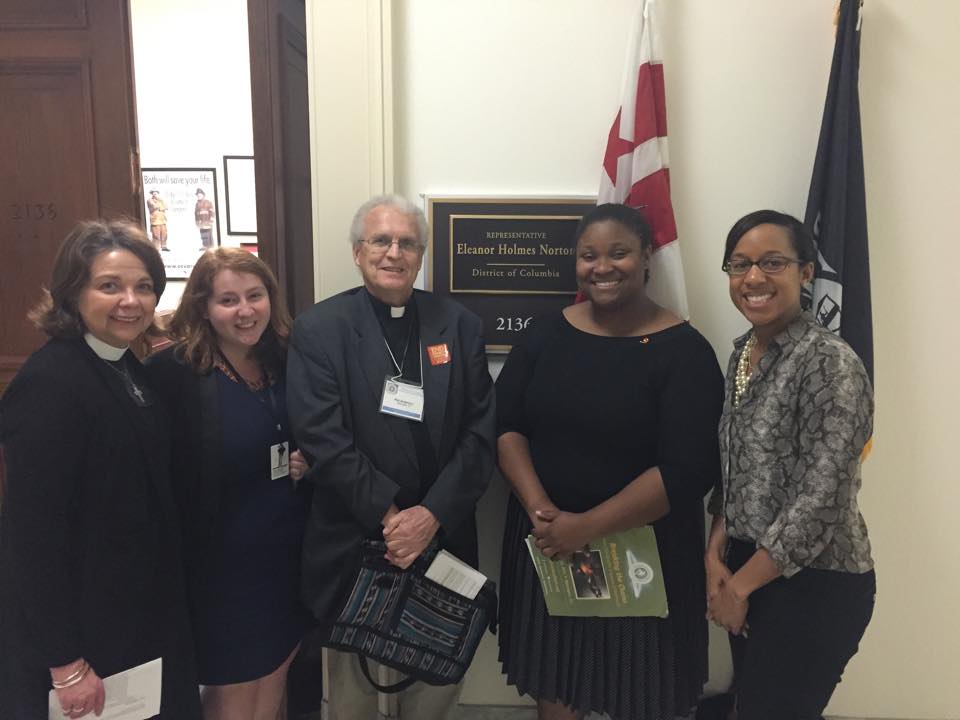 While having a positive reception to our smoothly rehearsed presentations felt like a triumph, our lobby visits did not end the conversation about mass incarceration. We did not convince all of our elected officials to vote in favor of the proposed legislation. Rather, these conversations opened up a relationship between constituents and their representatives for people of faith continue to continue advocating for just policies.
The learning from Ecumenical Advocacy Days has prepared us to engage in conversations at home with our friends and families about mass incarceration and our flawed justice system. The hard work ahead of us is in changing the collective consciousness of our communities to address systemic racism. For now, we have the tools to acknowledge our privilege; lift up the voices of returning citizens and stories of our incarcerated brothers and sisters; reframe the conversation about drug offenses from criminality to one about public health and addiction; and name the injustices we witness in our daily lives—from the death of Freddie Gray to the War on Drugs that has become a system of mass racial control—so that we can begin the change our "hardened, hurting" communities so desperately need. Lamentations asks,
"When all the prisoners of the land are crushed under foot, when human rights are perverted in the presence of the Most High, when one's case is subverted–does the Lord see it?" (3:34-36)
By continuing the conversation, we affirm that we see it. We see the injustices our incarcerated brothers and sisters are facing. We see the need for liberation and reconciliation in our "hardened, hurting" communities. We see the opportunity before us to walk alongside "the least of these" as Christ has called us to do so.
---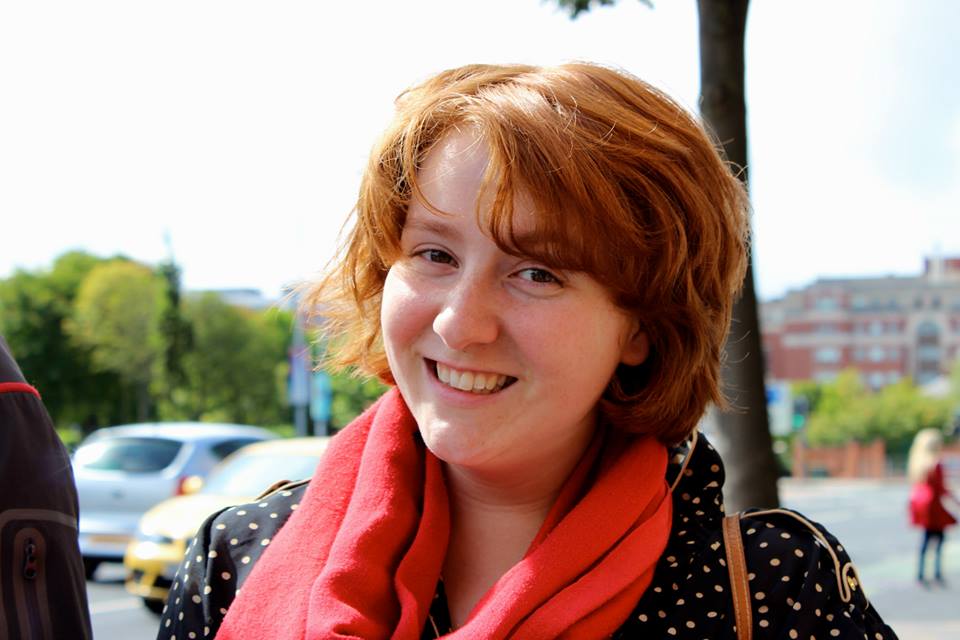 Marranda Major is a Young Adult Volunteer serving at the Washington, D.C. site where she works with NEXT Church. 
https://media.myworshiptimes31.com/wp-content/uploads/sites/55/2015/04/29180020/11198767_10153276531869345_95542663_n.jpg
720
960
marrandamajor
/wp-content/uploads/sites/55/2016/01/NEXT-Logo-FINAL-Horizontal_lato-1030x229.png
marrandamajor
2015-04-30 16:55:30
2016-02-18 13:47:21
A "Hardened, Hurting" Homecoming