Each month, we post a series of blogs around a common topic. This month, Jan Nolting Carter is curating a mosaic of perspectives on the art of transitional ministry. How do we work with people and systems in the midst of change? What does transitional ministry look like inside and outside of the church? We invite you to join the conversation on Facebook and Twitter!
by Libby Rollins
Small changes can lead to new possibilities. Think about a child learning how to take those first few steps. Standing on wobbling legs trying to balance and lift one foot to plop it awkwardly down a few inches ahead. It takes some children many tries until they finally figure it out. But eventually, those initial shaky steps turn into sure-footed forward motion, which leads to walking and then running. The child, no longer limited to what is in an arm's reach, has now opened up the possibility of a much larger world to explore.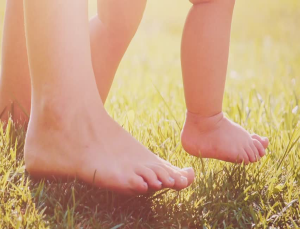 I find this is a great metaphor for leading change in the church. As an intentional interim pastor, in each new congregation, I look for ways to introduce small changes.  I do this for two reasons –
I have limited time with a congregation; and
in the midst of a pastoral change, small changes are all some people will agree to, since they feel they are already in the midst of great, sweeping change.
My reality is this: I never have enough time with a congregation. Just as we begin counting "firsts" – first day in the office, first Easter, first funeral, first stewardship season; it seems in almost the same breath we begin counting down to the "lasts" – last Session meeting, last communion, last day in the pulpit. Eighteen-ish months flies by much too fast, as the calendar flips weeks and seasons at a hurried pace.  Huge, sweeping change takes a long time. It takes time to dream it, get it approved, manage the emotions around it, and enact it. I don't have the gift of enough time to work towards big changes. I don't have the time to build the leadership equity I would need to spend to enact big change. But I hope that in planting the seeds of success with small changes, energy and confidence will build momentum and lead to a willingness to embrace larger changes. Small things lead to bigger things, which leads to new possibilities.
I also find that people tend to have a "quota" on the amount of change they are willing to endure. During a time of a pastoral transition, when the face in the office and pulpit is changing, temporary, and yet unknown, it can feel like EVERYTHING about the church is in transition. While I don't believe that to be true, I've heard it from multiple voices in all types of churches. So big change in the midst of what feels like big change, for some, is just too much at once. But small change sometimes is still welcome and tolerable.
So what does small change in the church look like? It's different for each congregation. In one church it was moving the communion table forward so that it was visible to the worshippers, which changed the way the sanctuary looked, but it also changed the way they experienced the sacrament. In another church it was a new way of doing stewardship and budgeting and reporting, allowing for a new understanding of blessings and thankfulness, and a better understanding of how they used their resources. In one church it was a change in the focus of a staff position, allowing for new possibilities and a new structure. In another church it was as simple as moving some old furniture, buying a coat of paint and a community coffee pot, and creating a space to fellowship and share information. I found that success in navigating each of these changes led to excitement to try other new things and an increased willingness to engage in bigger change.
Once we succeed, we believe we will succeed again. When I finally get around to cleaning off my desk, it looks all neat and tidy. Then I go home feeling the rush of accomplishment and the excitement of organization and want to tackle the junk drawer in the kitchen. Next it's organizing the laundry room or the coat closet. The tasks get bigger and bigger, require a larger time commitment, and have greater impact, but that first success breeds energy and helps to open my eyes to the greater possibilities.
As leaders in the church, clergy or lay, installed or interim, I believe we should all be planting seeds of small change until they blossom into possibilities for greater change, leading us down a path of massive change. For even small changes can lead us to exciting new possibilities.
---

Libby Rollins currently lives in Virginia Beach, VA, and has been serving as interim pastor for 15 years in 7 different congregations. Her husband serves as an installed pastor, so she doesn't move between churches. In addition, she has taught Transitional Ministry Education. When not at church, you can find her cheering for her son on a baseball field, in the kitchen trying out a new recipe, or sticking her toes in the sand at the beach.
https://media.myworshiptimes31.com/wp-content/uploads/sites/55/2016/07/29175026/featured-baby-feet.jpg
200
398
Linda Kurtz
/wp-content/uploads/sites/55/2016/01/NEXT-Logo-FINAL-Horizontal_lato-1030x229.png
Linda Kurtz
2016-07-26 07:17:39
2016-07-28 10:28:28
The Art of Making Small Changes