We are launching a new series this month that highlights participants at the national gathering in Charlotte, North Carolina on March 4 – 5th, 2013. Presenters, preachers, teachers, and leaders were asked the same five questions and their thoughtful responses may be found here every week. The goal is to introduce you to people you'll hear from in Charlotte and prime the pump for our time together. Hopefully, something here will spark an idea, thought, or question for you. We encourage you to reach out and initiate conversations that you can later continue in person. So without further ado …
Andrew Foster Connors
Workshop Leader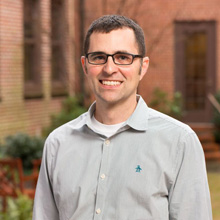 Andrew Foster Connors has served as the senior pastor of the Brown Memorial Park Avenue Presbyterian Church in Baltimore, MD since 2004. He currently serves as the clergy co-chair of BUILD, Baltimore's largest citizen power organization, affiliated with the Industrial Areas Foundation. BUILD is responsible for the first living wage ordinance in the country, the College Bound Scholarship Program, the rehabilitation of the Sandtown and Oliver communities, as well as the largest after school program in Baltimore. He serves on the strategy team for NEXT. He is married to the Rev. Kate Foster Connors. Together they have two children, two cats, one rabbit, and two fish.
1. Tell us about your ministry context.
I serve a congregation of approximately 300, with a fairly even split among all age groups. The church sanctuary, built in 1870 is situated in old Baltimore neighborhood, just a few blocks from an arts college, in a zip code that includes some of the highest poverty rates in the state of Maryland. Though many of the congregants have some experience in Christian community, for many, our congregation is their first Presbyterian experience. Racial and sexual identity diversity is strong and growing.
2. Where have you seen glimpses of "the church that is becoming"?
The congregation I serve almost closed its doors in the late 1970s due to a declining city population and associated economic challenges. During that time, the congregation was forced to reinvent itself. What I see emerging from those challenges is a willingness to try and fail, a joy in creativity, and a strong connection to the parts of the past that give life, with more and more experience in the work of grieving which is necessary in order to let go of ministry that may have been meaningful in the past, but no longer relevant today. It's these experiences that help the church continue to connect with new generations without completely disconnecting from the theological and social witness of our tradition.
3. What are your passions in ministry? (And/or what keeps you up at night?)
My passion is broad based community organizing that views God's locus of power for life and transformation in relationships. The tools for organizing shape my view of leadership in the pastorate, which is about organizing people to act on the parts of their faith which are most meaningful and life-giving to them and to the community we serve as disciples of Jesus Christ. For me, these tools have helped me continue to view leadership development as one of the most important roles I play, rather than the maintenance of a building, of programs, or of the status quo. These are the same tools that have also helped me act with a coalition of other faith groups, schools, and neighborhoods for justice in Baltimore.
What keeps me up at night is managing my calendar, and sometimes one of our cats.
4. What is one thing you are looking forward to at the NEXT Gathering?
Seeing old friends, colleagues, and debating partners, along with meeting all kinds of creative, energetic people who are excited about ministry, rather than simply depressed by the state of the church. Sharing what we're excited about. Helping those who are struggling with specific concerns imagine new ways forward. Singing with people who like to sing. Identifying new leaders and finding ways to support them.
5. Describe NEXT in seven words or less.
The flint igniting the fuel already there.
https://media.mywtenfold1.com/wp-content/uploads/sites/10/2011/12/29180756/Slide1.jpg
540
720
andrew
/wp-content/uploads/sites/10/2016/01/NEXT-Logo-FINAL-Horizontal_lato-1030x229.png
andrew
2013-01-24 10:06:42
2016-05-03 15:41:16
5 Questions with Andrew Foster Connors