This series highlights participants at the national gathering in Minneapolis on March 31st – April 2nd, 2014. Presenters, preachers, teachers, and leaders were asked the same five questions and their thoughtful responses may be found here every week. The goal is to introduce you to people you'll hear from in Minneapolis and prime the pump for our time together. Hopefully, something here will spark an idea, thought, or question for you. We encourage you to reach out and initiate conversations that you can later continue in person. 
Kellie Anderson-Picallo and Rich Hong are the pastors at First Presbyterian Church of Englewood. They will be leading a workshop on the 90 second sermon and other visual, sharable inspiration for social media.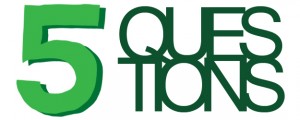 1. Tell us about your ministry context.
Media is a lively tool that we embrace throughout both our traditional and contemporary worship services at First Presbyterian Church of Englewood (www.englewoodpres.org). FPC is medium-size (400+ members), diverse, growing congregation in Northern New Jersey, just a few miles from NYC.  Our once-aging congregation is experiencing a significant influx of professional families with young children.  In the context of their very hectic lives, creating and maintaining connections to them requires us to be as adaptive and innovative as possible, leveraging technology and media to help them discover and deepen their faith.
2. Where have you seen glimpses of "the church that is becoming"?
We'll answer this from the local church level and we see this as a movement. Our FPC leadership of Elders and Deacons are some of our greatest champions of new and entrepreneurial thinking to grow the church and respond to the growing community. They recently identified 90 Second Sermon as one of their favorite parts and we've seen attendance blossom. The positive attitude and unifying spirit of being and growing the church is swelling within and a real glimpse of "the church that is becoming."
3. What are your passions in ministry? (And/or what keeps you up at night?)
Both of us are second-career pastors – one a first-career media professional and one a first-career science & technology specialist.  Our passions in ministry include taking the best practices of what we learned in our first careers and applying them to ministry.  We are passionate about helping people – especially SBNRs – develop a relationship with faith in ways that are natural and familiar to them. We share the commitment that media is a pulpit for helping us build God's world and reach new people.
4. What is one thing you are looking forward to at the NEXT Gathering?
The shared mindset of a spectacular group of people that the church is growing, lively and full of the talent and leadership that can build a meaningful future.  We are looking forward to being with a set of colleagues who are committed to resilient and entrepreneurial ways to liven our tradition, meet people where they are at and take them further with enthusiasm and hope for the future of the Presbyterian Church.
5. Describe NEXT Church in seven words or less.
Leadership and hope are catalysts for change.
https://media.myworshiptimes31.com/wp-content/uploads/sites/55/2011/12/29180756/Slide1.jpg
540
720
Jessica Tate
/wp-content/uploads/sites/55/2016/01/NEXT-Logo-FINAL-Horizontal_lato-1030x229.png
Jessica Tate
2014-03-11 10:13:58
2016-05-12 22:04:29
5 Questions with Kellie Anderson-Picallo and Rich Hong