by Rafael Vallejo, PhD
As human beings, we all inhabit the earth as a shared space – The Charter of Lampedusa 2014
>I begin this blog by thanking all my relations on the traditional lands of the Haudenosaunee, the Anishnawbe and the Neutral/Attawandaron peoples in Canada from where I live and write.
"Seeking Refuge" is a trope that recurs in biblical literature along with displacement, deportation/exile and diaspora. Many psalms speak of chasah, seeking refuge in God, and God as "refuge" (e.g. Ps 46:1, 91:2). A core narrative in the Hebrew Bible recalls how a people fled from slavery in Egypt, a memory re-enacted in the Jewish festivals of the Pesach and Sukkot. The story of Abraham welcoming strangers under the Oaks of Mamre speaks to an ethic of hospitality and  "welcoming the stranger". In the Christian New Testament and Coptic traditions one finds a story about Jesus, Mary and Joseph fleeing to Egypt to escape the wrath of Herod (Matt. 2:13-14). The hijrah in Islam recalls the prophet Muhammad (peace be upon him) fleeing persecution from Mecca to Medina in 622 CE (which became the beginning of AH, Latin:"anno hegirae" or the year of the hijrah.) 
Researching migration in the narratives of Abrahamic religions led me to doing mission theology starting from "the figure of the refugee" (Agamben 2000:16).
The practice of "seeking refuge" or asylum has a long history. In today's world, the 70 million refugees and internally displaced are the raced, classed and gendered bodies with whom we share our common humanity in God's world. Currently the burden for caring for refugees is disproportionately borne by poorer nations with much of the work being done by faith-based non-governmental organizations.  
Laws that require nation-states to protect refugees also give them the power to discipline and punish, practices that have been described as "carceral humanitarianism" (Oliver, 2017). As social practices, these mechanisms of brutal expulsions (Sassen 2014) are enabled by relations of power. And where there is power, there is resistance (Foucault, 1978). In regard to refugees, this resistance can take many forms from protracted legal struggles, hunger strikes and collective uprisings to everyday resistance (Scott, 1984) by way of silence and subtle non-compliance using clever unobvious ways.
Refugee Studies suggest that corporate globalization driven by neo-liberal values led to the imbalance that produced today's refugees. The war industry that sustains the economy of rich nation-states invariably creates refugees and internally displaced peoples. Nation-states use border imperialism (Walia, 2014)  to protect and preserve this global inequality while state sovereignty is the argument used to meet legal and political challenges that arise. What is being defended however are not just borders, but systems of wealth, power and privilege usually based on racial hierarchy. Border regimes are constantly being strengthened to support the agenda of capitalist expansion.
The Barmen Declaration of 1934 suggests that the state is not a God-given order. It declared as false doctrine the idea that the state "should and could become the single and totalitarian order of human life." (8.23) 
Prefiguration is the idea that our resistance ought to reflect the society we wish to live in and the social relations we seek to build. When refugees resist the powers that destroy life, they are declaring that another world is possible. They are performing parrhesia, truth-telling that speaks to the precarity and fragility of human life in conditions of "bare life" (Agamben, 1998 ). They are publicly calling out the powers that treat them as non-persons  and the migration-industrial complex of state and non-state actors that profit from their situation. 
If it is true that refugee camps in western modernity have become  the nomos of the political space in which we live (Agamben 1997:106) then our theologies of mission and migration need to explore how the outlander, the uninvited outsider, border-crosser might be seen as  a sacrament of  divine presence. Creating more equal social relations and dismantling the systems that produce refugees can be our way of participating in the Mission of God. This is an insight  from  Stranded: The impacts of US Policy on Asylum Seekers by the Jesuit Refugee Service last May 19, 2020. 
We are not good at asking questions like "Why do border controls exist?" and "Why are there borders in the first place?" or "Why is locking up people who are seeking refuge wrong?" These are difficult conversations to have in church and in the public square. 
It is from refugees and migrant workers and our indigenous sisters and brothers forced out of ancestral lands that we learn that borders are more than geography or lines on a map. All borders have a story about how they came to be ( eg. the U.S.-Mexican Border and the annexation of the Southwest in 1846). 
Interrogating the politics of  border-regimes requires deep work. The use of political metaphors framing Latinx refugees as outsiders, burdens, parasite, disease carriers is the subject of Santa Ana's book Brown Tide Rising.  The saga  of Haitian refugees' resistance to indefinite detention in United States' prisons since the 1970's led the way towards legal challenges to inhumane detention policies. They achieved landmark legal victories where the federal government was found to discriminate on the basis of race and national origin.  
Pablo Neruda captures the sentiment behind the refugees' struggle: "Podrán cortar todas las flores, pero no podrá detener la primavera." They will be able to cut all the flowers but will not be able to stop Spring.
---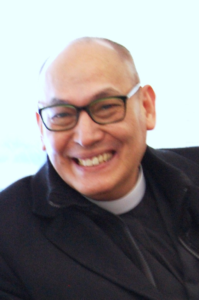 Rafael Vallejo started his theological career at the Graduate Theological Union in Berkeley and San Francisco Theological Seminary and from there continued on with a Master in Theological Studies from the University of Waterloo and a Master of Divinity at the University of Toronto. From 2011-2016, he travelled extensively and studied with indigenous communities in Peru, Brazil, Mexico and Argentina as part of his PhD dissertation (2018) on "Faith Perspectives of Mexican Migrant Farm Workers in Canada". He serves as affiliate faculty at the Ansari Institute for Global Engagement with Religion at the University of Notre Dame.
Rafael is also part of the NEXT Church blogging cohort and his pieces focus on the experience of refugees and mission. 
https://media.mywtenfold1.com/wp-content/uploads/sites/10/2020/06/25073359/rafaelblogjune.png
499
494
Layton Williams
/wp-content/uploads/sites/10/2016/01/NEXT-Logo-FINAL-Horizontal_lato-1030x229.png
Layton Williams
2020-06-25 07:35:07
2020-11-19 14:38:31
Seeking Refuge, Crossing Borders