Each month, we post a series of blogs around a common topic. This month, Suzanne Davis is curating a series highlighting the working relationship between ruling elders and ministers of the Word and Sacrament (or teaching elders). We'll hear from both individuals and ruling elder/pastor partners reflect on the journey in ministry they've had together. How do these two roles – both essential to our polity – share in the work and wonder of the church? What is the "special sauce" that makes this special partnership flourish? We invite you to join the conversation on Facebook and Twitter!
by Adriene Thorne
I am sore afraid that the ruling elders in my church are working two jobs, at least – the one they get paid to do and the unpaid one they do to the glory of God. Too often, church looks like their second job – their second job with long hours and lots of demands. While I am grateful for the working relationships I enjoy with dozens of dynamic, creative elders, I am also on a mission to reclaim sabbath for us all. I hope you will join me.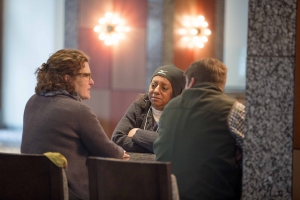 I began feeling nervous last fall when an elder in my church told me that when she and her husband retire at the end of this year, they would probably take a break from church. I murmured, "Oh, visiting family and friends? Traveling abroad?" She replied, "No, I think we will take a break from church because… maybe we're tired?" She spoke in a little chipmunk voice with her hands in front of her face as though she thought I would smite her! She went on to share that she wanted a break from lying awake at night wondering if the boiler would work on Sunday morning. She needed a reprieve from coming to church and answering questions about the building, the insurance, and the new church carpet. She wanted to be free of the burdens of doing ministry in a 200-year-old building that had spilled into her life over the course of more than two decades of service. She was in search of a sabbath, and I couldn't blame her. Just listening to the many responsibilities she carried out made me want to take a nap!
It isn't just my elder, and it isn't just my church. Over the past six months I've queried lay leaders from a few churches around the country who have shared with me both their satisfaction in serving and their joy in finally being done. Elders I spoke with thanked God their time of service had ended. Every. Single. One.
As I attend conferences and connect with ruling elders from all walks of life, I am reminded that I signed up for this work, that I trained for it, and that I love it. It is my calling and my job. I take a sabbath rest two days of nearly every week, but many of my elders work all week at their paying job and then work many evenings and all weekend at their church job. A colleague recently said to me that church work, done right, is life giving. Yes, that is true, but I am also listening to the stories and looking into the faces of elders who look anything but alive.
I realize that the language I've heard thrown around in ministry that says lay leaders are unpaid staff, is problematic. First and foremost, lay leaders are members of the body of Christ entrusted to the care of their pastor. They, as much as any member, and sometimes more than most, need the pastoral attention of their teaching elder. And if the only or primary conversations we are having with them are about budgets and attendance and volunteering more of their time, then something is wrong. Where and what is sabbath for ruling elders?
I've started a self-scheduling calendar for elders at my church. They can put themselves on my calendar for an agenda free tea date as often as they need one. Occasionally, I will invite one or two or several over for dinner with me and my family and say bring your partner and kids. Sometimes I'll grab a glass of wine with an elder at a local bar after I've put my kid to bed, and always when we gather, I'm creating sabbath. The only rule is that church conversations are banned. Often, we laugh, share stories, and learn something new about one another, and for that hour, there are no demands on us to accomplish anything more than the tending of ourselves. My elders love pondering where God is in their lives right now and what it is their soul needs. The hour leaves us feeling loved and fed.
We are all slowly starting to come back to life at my church. It is imperfect, and we still do too much. September is already jam-packed, but things thin out by Reformation Sunday. The best part is that we are doing a better job of being on the lookout for Sabbath and asking the questions that make ministry possible and most importantly, life giving and restful.
---

Adriene Thorne serves as pastor and head of staff at First Presbyterian Church of Brooklyn in New York City where the community seeks to tell God's story of love and justice in creative and transformative ways. Find her on Facebook at Adriene.Thorne.Minister, on Twitter at @AdrieneThorne and on Instagram at revadriene.
https://media.myworshiptimes31.com/wp-content/uploads/sites/55/2018/09/29173317/featured-re-sabbath.jpg
200
398
Linda Kurtz
/wp-content/uploads/sites/55/2016/01/NEXT-Logo-FINAL-Horizontal_lato-1030x229.png
Linda Kurtz
2018-09-27 07:02:02
2018-09-23 19:24:26
In Search of Sabbath