Each month, we post a series of blogs around a common topic. This month, Jeff Bryan is curating a series reflecting on the 2018 National Gathering in late February. You'll hear from clergy, lay people, community leaders, and others reflect on their experiences of the National Gathering and what's stuck with them since. How does the "Desert in Bloom" look on the resurrection side of Easter? What are your own thoughts of your National Gathering experience, or on what these reflections spark for you? We invite you to join the conversation on Facebook and Twitter! 
by Jeff Bryan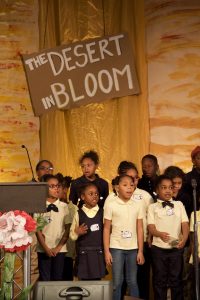 Who am I to summarize the blog posts from this month? Who am I to conclude these thoughts? I can only say, "Amen!" Amen to Liz Crumlish, our sister from the Church of Scotland, who said it so well: "We are engaged in a movement not a programme." Amen to Yena Hwang, articulating a theology of death and rising, while summarizing ministry so succinctly: "So, what we do is just that: we show up. Be present in people's discomfort as they experience the church existing in a different way, not in the way it used to be." Amen to the vulnerability of these contributors, sharing their personal experiences in the difficult work of the faith. I could go through each of this month's blog posts and find something to "Amen," but I'll spare you the systematic approach. Instead, I'll simply say I'm grateful to be in such fine company.
I'm also impressed by the restraint of our blog contributors. They have chosen to engage the content of the conference with honesty and integrity, whereas I have rewritten this paragraph 400 times, deleting screed after screed. The mid-twentieth century, White, Anglo-Saxon, male-oriented, culturally-cozy, Main Line church, and it's perceived loss of privilege and status… I could just scream! But not our writers. They have better, more faithful things to do.
If we are in a desert, it truly is a desert in bloom. So much good is happening out there! Almighty God is still Sovereign. Jesus Christ will never stop calling forth a church to worship, grow in faith, support one another, and serve the ones he called "the least of these." The Spirit of Christ will continue to send us out, abiding with us every step of the way, comforting, encouraging, and challenging us. That is, until we reach that glorious country where "there is day without night, light without darkness, and life without shadow of death forever." But there I go preaching again.
When I hear Presbyterians digging into the faith, thinking critically about ministry in their local (and often difficult and painful) contexts, and doing their very best to follow Christ, I feel inspired. I feel hope. I feel my heart yearning for whatever's next, with all the NEXT Church puns included.
Here's to whatever God has planned for us today. Here's to taking it one day at a time, making the next best decision, and keeping our eyes open for the presence of God. Here's to the future and the NEXT Church.
---

Jeff Bryan is senior pastor of Oakland Avenue Presbyterian Church in Rock Hill, SC. A graduate of Princeton Theological Seminary, Jeff has also served churches in Ann Arbor, MI, and suburban Philadelphia. He enjoys spending time with family, and has an embarrassingly large music collection.
https://media.mywtenfold1.com/wp-content/uploads/sites/10/2018/05/29173606/featured-kids-singing-ng.jpg
200
398
Linda Kurtz
/wp-content/uploads/sites/10/2016/01/NEXT-Logo-FINAL-Horizontal_lato-1030x229.png
Linda Kurtz
2018-05-31 07:11:43
2018-05-30 21:28:30
Hope For What's Next