Each month, we post a series of blogs around a common topic. This month, Sarah Dianne Jones is curating a series written by our workshop leaders at the 2017 National Gathering. What excites them about the Gathering? What are they looking forward to sharing and discussing during their workshop? We invite you to join the conversation on Facebook and Twitter!
by Alice Tewell and Roger Gench
In this post-election season, we are all grappling with the question "What is next?" And in our polarized context, "What is our calling as Christians to witness to our faith?" How do we embody the virtues of the gospel message as we live out our faith in a public way in the world?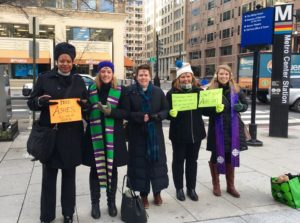 In this workshop at the 2017 National Gathering, we will explore such questions. We contend that there is no more important task for Christians at the present time than to embody the fruit of the Spirit from Galatians 5:22-23 — love, joy, peace, patience, kindness, generosity, faithfulness, gentleness and self-control — as political virtues.
These virtues are central not only to our personal lives of faith, but also to how we live out faith in the public sphere. We will share spiritual practices we use at The New York Avenue Presbyterian Church in Washington, D.C., that help us cultivate these virtues in our own lives of faith. When these spiritual practices take root in us, they nurture an engaged spirituality that guides us in our justice work as we seek to address the profound polarizations in our country and world. We believe that by embodying these spiritual practices, we are empowered to seek a radical reconciliation that pursues justice for the oppressed, standing up for and with the most vulnerable in our midst. They cultivate non-violent resistance to the "power over" politics of our world in order to bring about healing, justice and love.  
New scholarship on the apostle Paul has provided new angles of vision for reflection on Galatians and the fruit of the Spirit as political virtues. We will explore biblical scholar Brigitte Kahl's brilliant reimagining of Paul's letter to the churches of Galatia (Galatians Reimagined: Reading with the Eyes of the Vanquished, Fortress Press, 2010), which offers a dramatic vision for Christian imagination for us today. Kahl shows that if we put the politics of the Roman Empire in the foreground of Paul's letter, what emerges is a dominating social and political milieu for integrating subjugated people into the Roman colonial mentality that Paul calls the "other gospel" (Gal. 1:6): the gospel of Caesar. In such a world, Paul's stunning baptismal declaration in Gal 3:28 ("there is neither Jew nor Gentile, neither slave nor free, nor is there male and female, for you are all one in Christ Jesus") was a revolutionary statement that turned the world upside down. Kahl contends that for Paul, the entire imperial model of "divide and rule" was drowned and washed away in the waters of baptism.
Using Kahl's reimagining of Galatians and its implications for our cultivation of fruit of the Spirit, we will share with you how The New York Avenue Presbyterian Church is engaging these virtues today to empower children, youth, and adults toward reconciling, healing and justice-seeking Christian living.  
We will have time for conversation as well, in which we hope to engage these questions:
Where do you encounter the polarizing, demonizing politics of our day?

What does it mean to be in, with, and for others — losing oneself in order to gain a self (a fuller self) in others?  

How does one "wash away" polarizing "us vs. them" mentalities so prevalent in our world?  

Is there another alternative to winners and losers?  Or should we develop another vocabulary? (Even "win-win" is the language of competition.)
Join us.
"The Fruit of the Spirit in a Polarized World" is being offered during workshop block 3 on Tuesday of the 2017 National Gathering.
---

Roger Gench is senior pastor of The New York Avenue Presbyterian Church in Washington, DC. He has conducted spiritual retreats for lay people and clergy on spiritual disciplines (especially St. Ignatius), spiritual uses of the Bible, interfaith dialogue, politics & religion, and faith & ethics. He serves as clergy leadership of the Washington Interfaith Network (WIN).

Alice Rose Tewell is associate pastor of The New York Avenue Presbyterian Church in Washington DC. Alice is an accomplished educator and facilitator of young adult ministry.
https://media.myworshiptimes31.com/wp-content/uploads/sites/55/2016/12/29174816/featured-clergy-ashes.jpg
200
398
Linda Kurtz
/wp-content/uploads/sites/55/2016/01/NEXT-Logo-FINAL-Horizontal_lato-1030x229.png
Linda Kurtz
2016-12-28 07:10:11
2016-12-27 17:22:26
The Fruit of the Spirit in a Polarized World