Each month, we post a series of blogs around a common topic. This month, Ellen Crawford True is curating reflections on intergenerational ministry. What does it look like for the church to do and be church together? What does it feel like to understand ourselves as vital parts of the body? What can it mean to seek to be faithful as children of God together, no matter what comes next? We invite you to join the conversation on Facebook and Twitter!
by Liz Perraud
I'm a big fan of relationships between and among generations. Especially in the church. I'm convinced these relationships are good for faith deepening, for serving others, and for all around healthy living. Likely it's the way God intended for us to live (see Hebrews, Deuteronomy, the Psalms, Luke, Romans, 2 Corinthians, Galatians, 1 Timothy, 2 Timothy, Colossians, etc.). I imagine heaven is not a "siloed" experience in any way, shape or form. Here are articles from Holly Allen, John Roberto, Kara Powell, Search Institute and others about the importance of these relationships.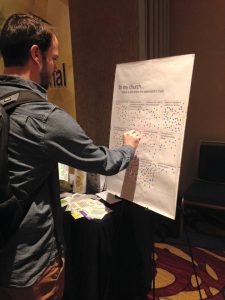 But how do we know if a church is "intergenerational?" How can we tell that healthy cross-generational relationships exist and that we don't just have multiple generations in the same building or even in the same room at the same time? If we believe these relationships are important, how are we intentional about growing and deepening them?
GenOn Ministries (our name made up from the word "generations") has a tool that helps church leaders assess their current situation and vision how to go wider and deeper in bringing generations into relationship with one another—and so with God. We offer it at no cost in hopes that many churches will hold conversations about the transformation that happens when generations learn and grow together, and then plan to do so more effectively.
The Visioning Tool for Intergenerational Ministry has three sections with 19 factors representing the tangible characteristics that underlie a church's ability to consistently build disciples through these relationships. Each factor is explained with sub statements and each section offers discussion questions and instructions for processing and then for planning.
First, interested leaders must identify whether the church is PURPOSEFUL. Is there a commitment and intentionality in bringing the generations together? There are four factors that indicate such purposefulness:
Foundation of healthy Christian relationships

Commitment to faith formation and growth

All ages worshipping together

Intergenerational mission and service
The tool defines each of these factors. Leaders discuss the benefits and challenges of each, describe a current "snap shot" of the church, and brainstorm stretching further.
It's not enough to just say we want to be intergenerational, we've got to do something about it. Here's the "rubber meets the road" time. Those gathered for the conversation examine whether the church is PRACTICAL about being intergenerational. There are nine factors to assess effectiveness in this area:
Decision about when and where to be intergenerational
Role of clergy
Intentional process to invite people into ministry leadership
Advocates for intergenerational ministry
Number of adults involved in children's and youth ministry
Evaluation of best practices
Experiences to both learn and practice faith
Use of resources
Support of parents
Church leaders are instructed to break down into small groups to review and discuss each PRACTICAL factor and then use a scale to score how well the church is currently doing. Discussion questions are offered to build on strengths and improve weaknesses.
The most important of all to assess is IMPACT. Does what we believe and what we implement make a difference in peoples' lives? Are there signs of positive effects of being an intergenerational church? People of all ages have plenty of activities to keep busy. We need to be certain that what the church offers, encourages, and facilitates has deep meaning and significance in our walk with Christ. There are six factors that we believe are indicators of being IMPACTFUL:
Observable intergenerational relationships based on Christ's example

Demonstrable spiritual growth in individuals' commitment to Christ
Worship engagement and leadership across generations
Participation by people of all ages in mission and service
Growth in number of participants over time
Sustainable ministry through change
Discussion questions focus on specific observations of impact and brainstorming ways to demonstrate and encourage deeper relationships.
The Visioning Tool is a downloadable free resource from our website. GenOn Ministries' mission and vision is for all faith communities to grow intergenerational relationships in order for all people to grow deeper in their relationship with God.
---

Liz Perraud is Executive Director of GenOn Ministries. GenOn trains, resources, and supports churches in healthy growth through intergenerational ministry. Liz is also a ruling Elder at Christ Memorial Presbyterian Church (Columbia, MD) where she serves as the Christian Education Committee Chair and leads Bible study with middle schoolers at LOGOS.
https://media.myworshiptimes31.com/wp-content/uploads/sites/55/2016/05/29175129/featured-genon.jpg
200
398
Linda Kurtz
/wp-content/uploads/sites/55/2016/01/NEXT-Logo-FINAL-Horizontal_lato-1030x229.png
Linda Kurtz
2016-05-25 07:53:56
2016-06-13 19:07:51
Intergenerational Ministry: How Do We Know?