By Rebecca Messman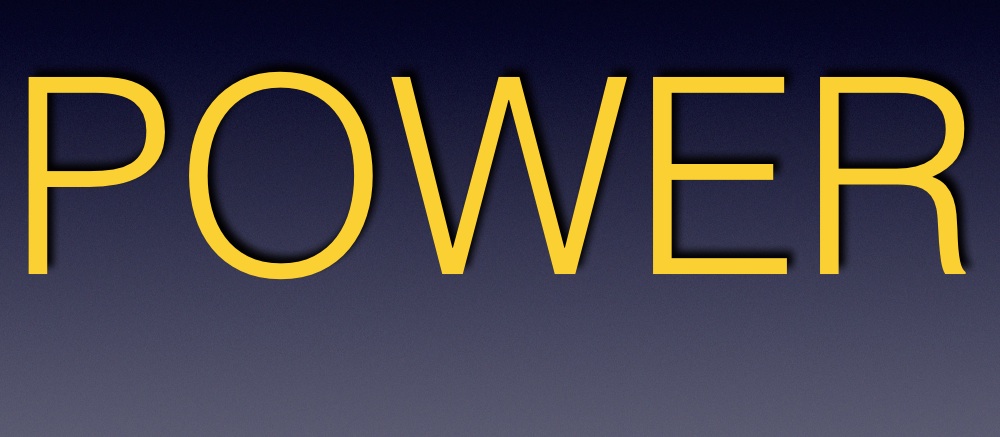 Christians often shy away from the use of the word "power" because it is seen as bad: power over, corrupted power, violent power, greedy power. Goliath bad! David good! Jesus blessed the meek, after all. God's power is made perfect through weakness.
However, Christians do not shy away from conversations about the power of the Holy Spirit, the power of prayer. I remember the old gospel song that crooned, "There is pow'r, pow'r, wonder workin' pow'r, in the blood of the lamb!"
Power is defined in community organizing simply as the ability to act on one's values, from the Latin word poder, which means "to be able." Power in organizing is not coercive power but relational power, the engine of relationships that are at work inside and outside of a congregation.
What is a power analysis?
Michael Gecan, one of the leading community organizers within the IAF (Industrial Areas Foundation), wrote,
"Many leaders of congregations operate without a clear and honest picture of the relational terrain in which they function – both inside the congregation and with the surrounding community. A basic understanding of which leaders have followings and influence, how they relate to one another, who determines what decisions are made and how money is spent, is what we call a power or relational analysis. At bottom, a power analysis is a relational map of the way an institution really functions and how that institution actually interacts with other institutions in the real world." (Effective Organizing for Congregational Renewal, 13.)
Why do a congregational power analysis?
Without knowing who the true influencers of a congregation are, it is nearly impossible to do anything. The dynamics are constantly shifting, so this is not a "once and done" process. Most importantly, a power analysis grounds organizing to the world as it is rather than the world as it should be. The powerful people within a congregation may not be the ones whom the pastor thinks should be the leaders. Pastors or any would-be change agent cannot be held captive to stereotypes or wishful thinking. Leaders may not be the same from one Presbyterian Church to the next. For example, PW may hold significant sway at one church and be sidelined at another. The Session at one church, or even a subset of the Session, may decide everything at one church, while at another church, nothing moves forward without the support of the pastor.
How to do a congregational power analysis?
First, mapping out relationships and doing a power analysis require trust and sensitivity. There are always egos to be managed, antique grievances and hurts to be understood and either buried or ignored, and there is spin to be un-spun, as Gecan cautions. So, those best positioned to study the congregation are the leaders themselves. It cannot be done by outsiders. It is a confession about how things really happen, within the church and in its connection to the outside world. Second, it is based upon many trust-building individual meetings. Until church leaders and members know each other, through sitting down and listening to each other's stories, there is not enough trust or knowledge to identify current leaders or tap future ones. A church that is acting as a transactional body, where leaders are only seen as committee chairs who run programs, misses many contours of its own life, and the leaders it does have get pigeonholed and eventually burn out. Finally, a power analysis needs to be done repeatedly, because all relationships are fluid. These shifts in congregational understanding are naturally done when a pastor leaves or arrives, which is why those can be such ripe moments for a church to change. But, it can paralyze a congregation and doom a pastorate if this is the only way major change occurs. People are constantly, whether blatantly or quietly, stepping up and stepping down, forging new connections and severing them.
Tapping new leaders.
For our congregation, a power analysis revealed to us that we could not rely upon the Service and Mission committee alone to do community outreach. The committee of deeply committed leaders was simply too small. We had exhausted their bandwidth. With training in community organizing, we embarked on a season of relational meetings, a relationship campaign of sorts, starting with Session and Deacons. In the summer, we incorporated these conversations into worship. Instead of a sermon, for two Sundays, the congregation spoke in small groups about what they believed broke God's heart in the community around us. Where were we called, even gifted, as a church to speak to those needs? Those relational meetings were like a giant spoon stirring up energy and affecting the chemistry of our congregation. New leaders surfaced.
Before doing an individual meeting with a woman I'll call Margaret, I – her pastor – knew her only through fellowship events and through the pastoral care space in the death of her aging family members. So, I noticed my own inclination to tap her for the fellowship committee or the congregational care team of deacons. But after hearing her story, of being a first generation American, of her passion for education, and her ability to organize just about anything she approached, I saw her differently. Now, she is leading our congregation's new partnership with the elementary school across the street and has become a leading advocate for immigrants in our community.
What we can really do.
The flip-side of a power analysis is that is grounds a congregation in hard reality. It is easy to talk about justice, making an impact, loving our neighbor, speaking truth to power, and feeding the multitudes, but a power analysis forces the questions, "How?" "Who would do that?" "What impact are we hoping to make?" "What kind of coalition would we need to even be noticed by the ones really making the decisions in our municipality, in our county, in our state?" But it has been energizing for a group of faith communities in Fairfax County, Virginia to talk in these stark terms, but then to realize, if all 13 of the faith communities that we had already gathered, talked to 13 other specific faith communities with whom we already had relationships conveniently, and we worked together, we would have the power to get to the table with half of the Board of Supervisors of our county, one of the largest counties in the country.
Those relationships are allowing us to do more than talk about homelessness or feed the homeless, which we have all already been doing, but to find homes for them and prevent others from losing their homes as a new Metro line makes its way to our area and threatens to expunge our region of affordable housing. Alone and disorganized, we did not have the power to do this. But together, we were able to preserve one particular affordable housing community called Crescent Apartments. That victory was documented in the Washington Post. That effort fueled our imagination and brought out more new leaders.
Our communities were ravaged during the foreclosure crisis. Alone and disorganized, we would have raged against the machine, preached until we were blue in the face, and homes would have still been blighted and vacant, full of broken bottles and broken promises. But together, we were able to highlight the issue, gather congregation members from nearly 60 faith communities, 500 people packed into high school gyms or sanctuaries, over and over again, which got all sorts of media attention, and over the course of two years of pragmatic and deliberate action and agitating leaders, we were able to deliver $30 million dollars for mortgage modification and community investment.
And as the Bible says over and over again, seeing what the power of the Spirit can do, "we were amazed."
Rebecca Messman is the associate pastor at Trinity Presbyterian Church in Herndon, VA and a leader in Virginians Organized for Interfaith Community Engagement. She is a regular blogger for the Presbyterian Outlook.
https://media.mywtenfold1.com/wp-content/uploads/sites/10/2014/05/29180352/Power-copy.jpg
437
1000
Jessica Tate
/wp-content/uploads/sites/10/2016/01/NEXT-Logo-FINAL-Horizontal_lato-1030x229.png
Jessica Tate
2014-05-30 11:02:44
2016-02-18 13:06:42
Congregational Power (Relational) Analysis