Each month we ask a different person from the NEXT Church community to assemble a series of posts around a particular theme. This month, Andrew Taylor-Troutman is curating a conversation around small congregations. Have ideas or reflections to share? Offer your thoughts in comments, on our Facebook page, or contact us here.
by Mary Harris Todd
In his television program Mister Rogers' Neighborhood, Fred Rogers approached children in such a gentle manner.  Except for the trolley bell, there were no bells and whistles on the show.   The tone was quiet and conversational.  At an unhurried pace, Mr. Rogers talked with adults and children on the show.  Often he was seeking to learn from them, as when he asked a young neighbor to show him some dance moves.  Mr. Rogers addressed his television neighbors about topics of interest or concern.  The Neighborhood of Make Believe was definitely low-tech, leaving lots of room for children's imaginations.  Simple hand puppet characters interacted with people.  Some of the characters were children, and some were adults.  It was intergenerational.  Children loved Mr. Rogers, and I did, too, even though I only watched the show as an adult.  I am too old to have been one of his neighbors as a small child.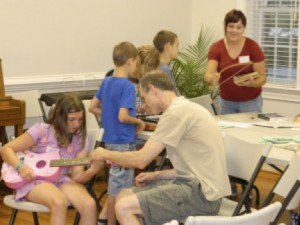 Our small congregation loves children.  We have no bells and whistles to offer, except that we love it when there are children present to ring the church steeple bell.  We can't offer busy programs and sports leagues with crowds of excited children.  But we can be neighbors like Mr. Rogers, himself a Presbyterian minister who saw the children as his congregation.  We approach children with his gentleness and loving simplicity.   Like Mr. Rogers, we share Jesus' love conversationally.  A child who comes to Morton will find many "grandfriends"–my daughter's term–who will take genuine, ongoing interest in them.  We tell the gospel story.  We share our talents and encourage the children to share theirs.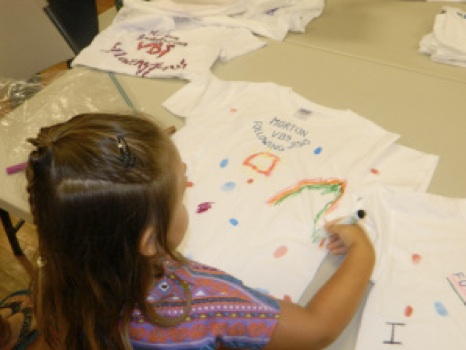 Here are some pictures from our recent summer program for children.  God has given our church many talents in music, so we decided to share that with the children, both as an expression of love and an encouragement for them to give musical instruments a try.  We also invited them to express their creativity through art.  Adults and children alike were enthralled by Jesus' story, and mixed together in a lovely way.  We are so grateful for this time God gave us with these children!  (Click here to see more photos.)
Now we're working on developing more opportunities of this kind, with the dream and the hope of welcoming these and other children and their families fully into the family of God.   We long for them to join us on Sundays!  But even if they don't, we are still going to do what we can to help them know that Jesus loves them, and encourage them to love him back  He is their nearest, dearest neighbor.  Living in God's neighborhood means loving other neighbors as Christ loves us.
We are a Mister Rogers' Neighborhood kind of church, looking for ways to ask people of all ages, "Won't you be our neighbor?"
---

Mary Harris Todd  has been a Presbyterian all her life.  She grew up in one small congregation, Kirk O'Cliff Presbyterian Church  near Mineral, Virginia, and since 1990 she has served as the pastor of another,  Morton Presbyterian Church in Rocky Mount, North Carolina.  As Advent approaches, the Morton congregation is looking forward to a blessed season with the handful of beloved children that God has brought to us since the summer.  Visit with Mary and her flock online at The Mustard Seed Journal, where you can find lots of resources for small church ministry.
https://media.mywtenfold1.com/wp-content/uploads/sites/10/2013/11/29180532/girl.jpg
350
466
maryann
/wp-content/uploads/sites/10/2016/01/NEXT-Logo-FINAL-Horizontal_lato-1030x229.png
maryann
2013-11-26 09:24:29
2016-05-10 21:20:06
Mister Rogers, Children, and the Small Church