Each month, we post a series of blogs around a common topic. This month, Sarang Kang and Lynn Turnage are curating a blog series on faith formation. We'll hear from various people who are involved in faith formation personally, professionally, and perseveringly. How has your faith been formed? How has your faith formed you? We invite you to join the conversation on Facebook and Twitter!
by Sarah Dianne Jones
My earliest memory is of being four years old in Sunday school. It was there that I not only learned about Noah and the ark, Moses and the burning bush, and the Easter story, but also the importance of sharing my animal crackers with my friends, the need to say please when asking for the out-of-reach toy, and how much fun it was to be at church. Growing up, the church supported and loved me in ways that I'm just now realizing instilled my love for the church.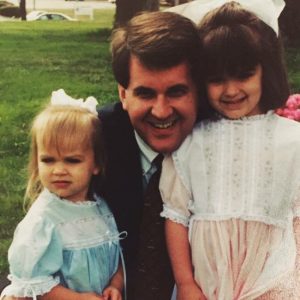 It was at church that there was a community that cared – deeply cared – about the ways I was growing and learning. The congregation wanted to know about the latest book I was reading, read the "newspapers" that my friends and I made in Sunday School about the things that we were learning about, came to my school events, and taught me what it was to be fully surrounded and loved by a community in the name of Jesus Christ.
This community raised me up in the faith, and I went to college assured of my place in the church. I had given the church my whole self, and in exchange my whole self had been shaped by the church. College was my chance to figure out what kind of relationship church and I would have, and I jumped in feet first, full of excitement. In college, I engaged with multiple congregations, each of which offered different experiences that helped to expand and deepen my faith. It was in the moments of great joy that I could celebrate in community, and in the moments of pain I learned to lean on the faith of others to hold me up when my faith felt weak.
As college came to a close, I needed to find what was next. The natural next step was to participate in the Young Adult Volunteer (YAV) program, as it was a mission of the Presbyterian Church (USA) that would offer intentional growth opportunities that I had yet to experience. What better way to spend more time thinking about vocational discernment and figuring out what my next steps were? I was thrilled to be matched with the Washington, D.C. site, but almost immediately after accepting the placement, my brain filled with questions.
Was my faith strong enough to do this? What about my experience? Will 22 years of living in the suburbs have prepared me at all to live in a city? Have mission trips, Vacation Bible Schools, Montreat conferences, and countless Bible studies prepared me to live into this experience in the way it deserves?
I needn't have worried. My experiences had not given me a history in working in situations like I do now in DC, but that did not mean that I wasn't prepared. My faith had been formed and tested by the same community that still loved me. It's not perfect, but it never will be. The important part is that I have seen the evidence for a strong community to surround you. My YAV year could not have been as meaningful, challenging, and fulfilling had I not been reminded over and over again throughout my faith journey of my place in the community of Jesus Christ.
---

Sarah-Dianne Jones is a Birmingham, Alabama native who graduated from Maryville College in 2016. She is currently serving as a Young Adult Volunteer in Washington, DC, where she works with NEXT Church and New York Avenue Presbyterian Church.
https://media.mywtenfold1.com/wp-content/uploads/sites/10/2017/06/29174348/featured-sdj-faith-form.jpg
200
398
Linda Kurtz
/wp-content/uploads/sites/10/2016/01/NEXT-Logo-FINAL-Horizontal_lato-1030x229.png
Linda Kurtz
2017-06-22 07:48:27
2017-06-28 19:22:54
Instilling a Love for the Church